Face-to-Face
Rolex Submariner 116610LN vs Omega Seamaster Diver 300m
THE battle of the luxury dive watches...
In the world of diver's watches, there are two major ones, two that are well known to you and even to many people who are absolutely not into watches. Sure, there are quite a few iconic dive watches, impressive dive watches, but in reality, taking sales numbers into account, the two best-known and most recognizable dive watches are the Rolex Submariner and the Omega Seamaster. We're going to have a face-off with the Rolex Submariner 116610LN and the Bond watch, the blue version of the Omega Seamaster Diver 300m that was introduced in 2018. 
A bit of history
The blueprint for the dive watch as we know it today is often credited to Blancpain and its Fifty Fathoms. The watch was designed by Jacques Fiechter, Blancpain CEO at the time and an early scuba diving fan. It was later adopted (with the addition of magnetic shielding) by the French Special Forces Combat Swimmers, as their comander Robert Maloubier, got the task to design a purpose-built dive watch that could withstand a depth of at least 50 fathoms, which equals approx. 91 metres. The Lip-Blancpain Fifty Fathoms was introduced in 1953.
Sure, Blancpain beat Rolex in introducing the Fifty Fathoms ahead of the Submariner, but both brands had been working on a dive watch with a black dial, luminous markers, serious water-resistance, a screw-down crown and a rotating bezel, pretty much at the same time. According to Rolex, the Submariner went into production in 1953, however, it was officially shown to the public and press during Baselworld 1954. The Blancpain Fifty Fathoms went on sale in 1954… so to me, it is impossible to credit only one of these two brands.
EDIT: As some commented, the Zodiac Sea Wolf was also introduced in 1953, but since I wanted to focus on a black rotating bezel, I chose not to mention it. 
A few decades earlier, Rolex was the first to introduce a waterproof watch to the market (1926) featuring its Oyster case. In 1932 Omega introduced its first waterproof watch named Marine, which featured a protective rectangular case into which the watch slid in. And a few years later, Panerai created the first Radiomir for the Italian Navy. But none of these resembles the dive watch as we know it today, which can really be credited to Lip-Blancpain and Rolex. These two companies laid the foundations for dive watches as outlined in the ISO 6425 standard for diving watches.
A Dive Watch is a watch designed for underwater diving that features, as a minimum, a water-resistance greater than 1.0 MPa (10 atm), the equivalent of 100 m (330 ft). The typical diver's watch will have a water-resistance of around 200 to 300 m (660 to 980 ft), though modern technology allows the creation of diving watches that can go much deeper. A true contemporary diver's watch is in accordance with the ISO 6425 standard, which defines test standards and features for watches suitable for diving with underwater breathing apparatus in depths of 100 m (330 ft) or more. Watches conforming to ISO 6425 are marked with the word DIVER'S to distinguish ISO 6425 conformant diving watches from watches that might not be suitable for actual scuba diving. These are the requirements:

Equipped with a diving time indicator (e.g. rotating bezel) – allows for reading of the diving time with a resolution of 1 min or better over at least 60 min
Clearly distinguishable minute markings on the watch face
Adequate readability/visibility at 25 cm (9.8 in) in total darkness
The presence of an indication that the watch is running in total darkness (running second hand with a luminous tip or tail)
Magnetic resistance
Shock resistance
Chemical resistance (test water solution has a salinity comparable to normal seawater)
Strap/band solidity
I think it is incredibly impressive that the Rolex Submariner has remained almost unchanged for the past decades. Sure, it evolved – and it evolved seriously. It's like an old Porsche 911 can be recognized as the ancestor of the current 992, the latest Porsche 911, in the same vein the first Submariner ref. 6204 can be easily recognized as the ancestor of today's Submariner Ref. 116610LN.
While the Submariner has stayed impressively close to its forefather from 1953, the Seamaster has seen many variations and even today it's available in a plethora of choices. The versions we're gonna put side by side, or head-to-head, are the latest Submariner Date with ceramic bezel Ref. 116610LN and the latest Seamaster Diver 300m with blue ceramic dial and bezel (Ref. 210.30.42.20.03.001).
But let's first take a quick look at how they evolved…
The Submariner was introduced in 1953 and today there are basically two variations, one with date and one without date. There are some variations on the standard steel Submariner, but Rolex kept the well-known dive watch as a dive watch. No additional functions have been added and the only variations are in the material; there are versions in white gold, yellow gold and a mix of steel and gold. That's it. This means that the Submariner is probably the most recognizable watch in history and the most iconic watch ever created.
Over time, the movement has been upgraded several times, the depth rating went from 200m to 300m, the crystal went from Plexiglas to sapphire, luminescent material was also upgraded and the case and bezel too. Consider this the Porsche 911 of the world of watches. It grew a bit, got infused with a lot more technicalities, but the Submariner still looks like a Submariner.
In 1971 Rolex introduced a dive watch that was based on the Submariner, with a higher depth rate and a helium escape valve. A more robust and more professional diver's tool that goes by the name Sea-Dweller. This one could, sort of, be regarded as a third variation in the Submariner line.
The Seamaster has a much more diverse history. Initially launched in 1948, it did not feature a 'significant' depth rate, nor a bezel for divers to keep track of their 'down-time', nor a screw-down crown. Two years ago, we recorded an in-depth video on the Seamaster and in this video, Omega's museum director explains how the 1948 Seamaster evolved to the various current collections in Omega's line-up.
One of these collections that sprouted from the original 1948 Seamaster (which was heavily inspired by the timepieces made for the British military) is the current Seamaster Diver 300m collection. Upon its introduction in 1995, it was actually called the Seamaster Professional and soon after collectors nicknamed it SMP (Seamaster Professional).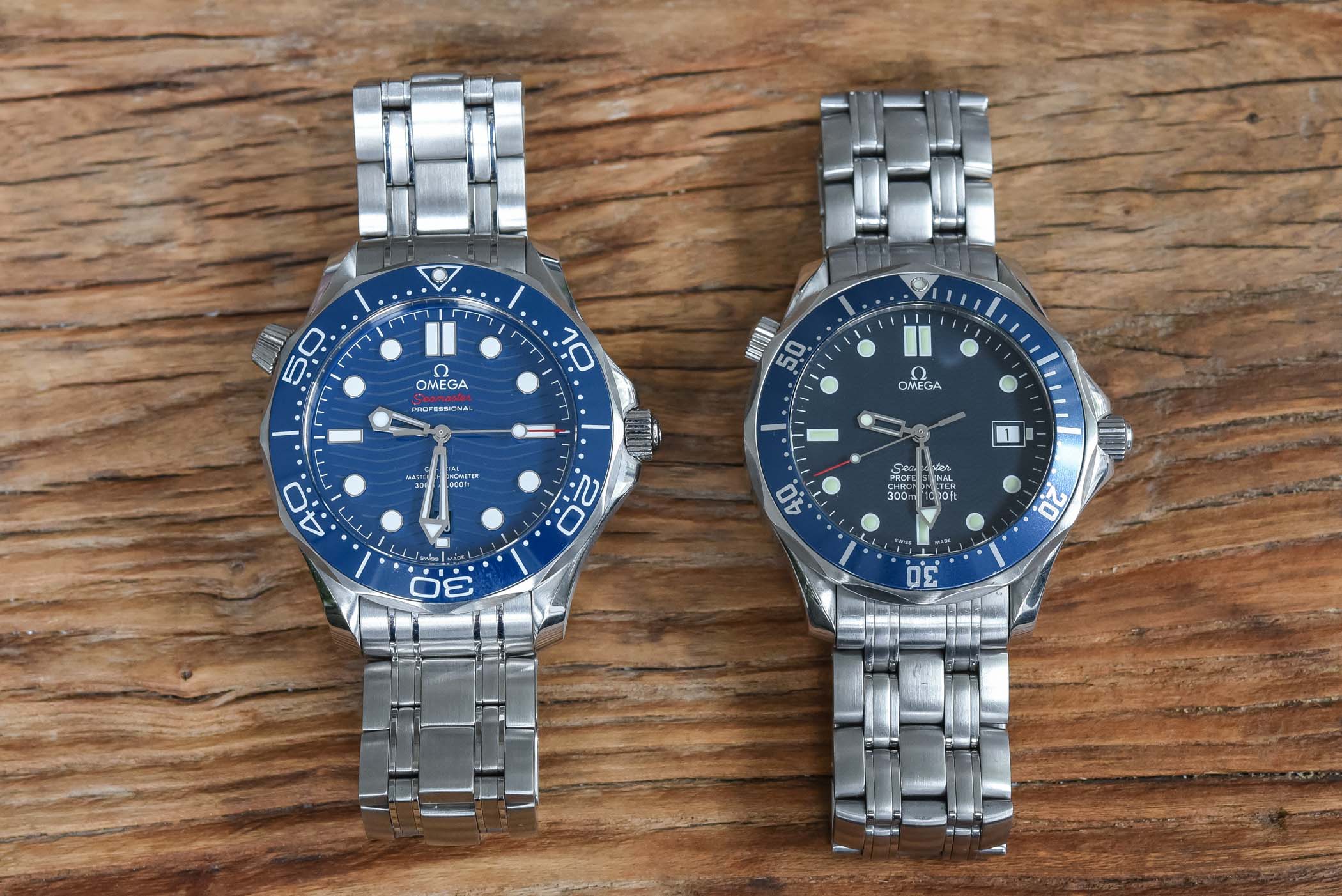 Other Omega Seamaster collections that sprouted from these 1948 Seamasters are the Aqua Terra collection, the Planet Ocean 600m, Seamaster 300 and even the De Ville collection. Similar to Rolex, Omega also introduced a heavy tool watch that comes in the shape of the Ploprof 1200m. In 1995, the first Seamaster Professional, the 'ancestor' of the watch we're looking at today, was introduced, with a quartz movement, and it appeared in the Bond movie GoldenEye (this was reference 2541.80.00). A year later, the automatic model was introduced and later many more variations, including a chronograph and a GMT.
OMEGA Seamaster Diver 300M vs ROLEX Submariner Date
Now, let's have a look at the case, bracelet, dial, hands, and movement specifications of both watches. How do they compare? The watches in question are the Rolex Submariner Date (Ref. 116610LN) and the Omega Seamaster Diver 300M (Ref. 210.30.42.20.03.001). In order to compare apples with apples, we will keep a strong focus on specifications.
For starters, we'll focus on the case and the bracelet. As said, first the specs and then the opinion and 'emotions'.

SIZE/PROPORTIONS – So the differences are there, but there are not that many differences. While the Submariner measures 40mm in diameter, the Seamaster is 2mm larger and measures 42mm in diameter. Also in height, the Sub is slightly more compact, measuring 13mm and the Seamaster is 1mm thicker at 14mm. This extra 1 millimetre is due to the sapphire crystal in the caseback. To some, these differences might be insuperable, but on my wrist, I hardly felt any difference in size. Both are not too big, not too small, rather pleasantly sized dive watches. So to me, that additional 2mm is not felt, although the approx. 20 grams of extra weight that the Seamaster packs is felt. Nothing bad, but the Seamaster has just a tad more 'heft' on the wrist.
MAXI DIAL AND FAT LUGS – One thing that Rolex changed when it introduced this particular generation of Submariners is that the lugs became thicker, the shape of the crown guard changed, and hour markers and hands became bigger – the latter is often referred to as maxi dial. Personally I'm no fan of the maxi dial and of the thicker lugs that make the Submariner's case look more squarish. That being said, it is simply the version that we're looking at today, so this will be added in the final equation.
SIMILARITIES – Both watches have a depth rating of 300 metres and although I do not know how Rolex tests its watches, I know that Omega designed the watch to withstand an extra 10% of water-resistance because of its METAS certification (Editor's note: this is an additional 10%  on top of the extra margin that Omega already provides in order to meet with the ISO standard). One way or another, both will perform perfectly when put to the test.
Both watches have screw-down crowns and unidirectional bezels, but there is a major difference regarding the caseback! I don't know about you, but I love to see the movement. We all know that Omega's movements with the co-axial escapement, the anti-magnetic properties and the rather pretty finishing are absolutely superb. To be able to have a view on it is, to me at least, a big plus! And you don't have that with the 116610LN.
BRACELET – steel bracelet, steel safety clasp with diver's extension and fine-adjustment are provided with both models. Design is different and yes, the fine-adjustment and safety lock on the clasp works differently, but preferences will boil down to personal taste. The fine adjustment on the Seamaster works easier, as you can simply press a button and slide the bracelet's end to the desired position. Are there drawbacks? Yes, the diver's extension can come loose and you have to put that back in place again. For the Submariner, it's a tiny bit more work to fine-adjust the bracelet's length, but the diver's extension doesn't come loose.
HELIUM? – The Seamaster features a helium escape valve, while the Submariner doesn't. Is it a necessary feature on dive watches of these characteristics? No, I don't think so. Especially when you consider that 99% of these watches will probably only see some desk-diving action and never submerge to the depth they are designed to withstand. Visually though, I think the helium escape valve beautifully balances the Seamaster's design. And funnily enough, on the Submariner, I don't miss it and I think it looks good without an extra 'crown'. On a purely functional side, I think the helium escape valve for these dive watches (not in general, but specifically for these) is superfluous.
SAPPHIRE CRYSTAL – The crystal on the Omega Seamaster is slightly domed and has been treated, on both sides, with anti-reflective coating. The crystal on the Submariner is flat, without anti-reflective coating and equipped with a 'date magnifyer'. Personally I prefer the use of an anti-reflective coating on the crystal, although admittedly, with a flat crystal the need for this is less pressing. However that 'pimple' on the crystal… that's a highly subjective topic and some will love it while others feel less charmed by this very recognizable Rolex feature.
CONCLUSION – The main thing that stands out in this part of the comparison is the see-through caseback of the Seamaster. Otherwise, built quality is equally impressive on both models and technical features are almost identical.
Dial and hands – Seamaster vs Submariner
Let's move on to the dial and hands…
The Submariner that we looked at is the 'normal' steel version with its recognizable black dial. There more variations, like a steel Sub with green dial and bezel, a steel and gold version with blue or black dial, a full yellow gold version (black or blue dial and bezel) and a white gold version with blue dial and bezel.
The Seamaster we chose is the version with the blue dial and bezel, a.k.a. the Bond watch. Although James Bond has worn quite a few different Seamaster models, especially since Daniel Craig plays 007, the version that appeared in the Bond movie GoldenEye is to me THE Bond watch (and yes, I know that Bond also wore Rolex, Seiko, Breitling and many more, but still…) The Seamasters that sprouted from the Seamaster Professional introduced in GoldenEye come in many different colours (steel, gold, steel and gold) and with more colour variations for dials and bezels than Rolex. Additionally, there's also a choice of complications like chronographs and GMTs.
Whether the dial is blue or black is a matter of personal preference, however, I must add that the fact that Omega's dial made of ceramic adds a lot to the experience of wearing the Seamaster. The colours go from deep navy blue to dark grey with a hint of blue, to bright blue and the wave pattern is always present, no matter what the angle is. It looks pretty stunning and it brings so much more than any simple plain dial.
The black dial of the Submariner looks good, but the fact of the matter is, it's a simple black lacquered dial. That's it. On the other hand, the brand's logo, the hands and markers, with the ceramic black bezel around, are so iconic that this simply adds a lot to the experience too, and despite its 'simple' execution it really looks good.
Whether the hour markers on the Submariner are in white gold, while the ones on the Seamaster are rhodium-plated doesn't add much or anything actually, at least not to me. Same goes for the luminescent material used in the indices (hour markers) and hands. Chromalight or Super-LumiNova, in real life both perform very well.
CONCLUSION – To me, this section of the comparison ends in a draw.
Movement – Omega calibre 8800 vs Rolex calibre 3135
So let's have a look at what's under the hood, the engines of these iconic timepieces. Both brands have come a long way in terms of precision and chronometry. Both have spent a lot of money, time and effort on improving their movements and the results are impressive. In fact, both can be regarded as best in class and productions numbers are roughly comparable. So let's see how they compare based on the specs…
CO-AXIAL ESCAPEMENT – Not necessarily to set the tone for this part of the comparison, but this has to be addressed. What Omega achieved with the co-axial escapement is unparalleled and second to none! After more than two centuries of Swiss lever escapement hegemony, Omega managed to industrialize an entirely new escapement and that's absolutely brilliant. The idea came from none other than George Daniels, a British watchmaker, and in this Technical Perspective, we explain the nitty-gritty.
SPECS – Both the Omega calibre 8800 and the Rolex calibre 3135 are in-house developed and manufactured movements, both are automatically wound, both feature a date indication, both have bi-directional winding, both feature hacking or stop seconds, and both are Chronometer-certified by COSC. So far, everything seems pretty comparable and both models even feature a free-sprung balance.
But then come the differences… 55 hours of autonomy when fully wound for the Omega, while the Rolex stops after 48 hours. No major difference, but the 55 hours just gives you a bit more 'freedom' to leave the watch for more than two days on your nightstand before wearing it again (without having to set and wind it).
Si14 VERSUS PARACHROM – Omega opted for Si14, its own type of silicon, for the balance and balance spring. Rolex chose an a-magnetic alloy named Parachrom, so no silicon balance spring. That's a deliberate choice as Parachrom is a metal alloy and can be repaired and altered like metal. This is not possible with a silicon balance spring, as this material is fragile and whenever something goes wrong with the Si14 balance spring, it has to be replaced by a new Si14 balance spring. That means service parts must be available. As for the balance, Omega also opted for Si14, but when I asked Rolex, they didn't comment on the material used for the balance (hence the question mark).
MASTER CHRONOMETER – Besides the Si14 balance and balance spring, Omega has invested a lot in developing new metal alloys for many other parts in the movement that, when subjected to magnetism, will influence the watch's precision drastically. Here Omega outshines Rolex, as it guarantees their Master Chronometer watches (the process is fully explained in this video) to withstand magnetic fields of no less than 15,000 Gauss. Rolex does not mention anything about anti-magnetic properties; unofficially some movement manufacturers use 1,000 Gauss for a-magnetic properties. I expect Rolex to be a-magnetic to at least 1,000 Gauss for all its watches, but since Rolex does not communicate about many things, this is an assumption and nothing more.
With the omnipresence of magnets, whether in bags or chargers for cell phones, this resistance to magnetism is very useful. Moreover, the Master Chronometer tests are performed in-house at the Omega facilities and the Federal Institute of Metrology controls the testing on a daily basis.
DEVIATION – Precision is measured in a deviation between 0 and +5 for Omega and between -2 to +2 for Rolex. The difference is more a matter of choice than anything else and both are extremely precise. Same goes for the warranty both brands offer to their customers: 5 years.
CONCLUSION – Tough call, but to me, the a-magnetic properties of the Omega Seamaster, with its METAS-controlled Master Chronometer certification, the extra 7 hours of power reserve and the impressive feat of having a new escapement – the co-axial escapement – give Omega the lead.
Conclusion
After comparing apples with apples, it's time to add the emotions, the opinion, the feelings and… well, we all know that it's not only the rational part of the mind that makes decisions. And we'll add the retail price to the mix!
ICONIC – No matter how you look at this, the Rolex Submariner is more iconic! This is certainly an achievement by Rolex, as it has grown/created/nurtured one of the most recognizable watches in the world. Whether you're in the Sahara desert, in Vietnam, in the jungles of South America, or any place in Europe, USA, Japan, Hong Kong or wherever, there's a good chance that someone will recognize a Rolex Submariner on your wrist.
This will be less so with the Omega Seamaster, although Omega has gained a lot in 'recognizability' when it teamed up with James Bond. Especially the blue dial Seamaster Diver 300m is easily recognized by collectors. However, how the level of iconic-ness remains or increases depends on how consistent Omega will be in treating the Bond watch in the coming decade.
Whether this is positive or negative is highly personal. Some prefer to be able to show off what they are wearing, some prefer to fly under the radar. I guess it also depends on where you are, as in some places you do not want to be spotted with a Rolex on your wrist, without having a bodyguard next to you.
THE WATCH ITSELF – When we compare apples with apples, I have to say that Omega wins. The Seamaster simply packs more of what I like. The METAS certificate, the see-through caseback and the pretty spectacular-looking ceramic dial all contribute to its victory. For me, the Submariner's maxi dial and thick lugs sort of ruin its looks and in that perspective I preferred the more elegant looks of the older Ref. 16610, or if Rolex comes out with a new Submariner along the lines of what we 'predicted' (read: wished) for Baselworld 2020.
PRICE – And then comes the retail price… Unfortunately, it is nearly impossible to purchase the Submariner new from a Rolex boutique. Whether it is the strong demand or the 'controlled' delivery, either by Rolex itself or its retail partners, the fact is that you will not be able to buy a Submariner if you walk into a Rolex boutique today. Don't get me wrong, you can easily buy a brand new Submariner now, but only from grey market sources, only for a premium to be paid on top of the retail price and to me that ruins the experience (and hurts more in the wallet).
Buying a brand new Omega Seamaster at your local Omega dealer is not so difficult. When buying one, you will get it with a METAS certificate and if you check the Omega website with the number of your watch, you can see how it performed during the tests in the METAS laboratory before it was ready for delivery. I love this, it's such a nice additional value, an extra user experience.
Now behold… the Rolex Submariner 116610LN retails for EUR 7,800 and the Omega Seamaster Diver 300m retails for EUR 4,900. That is, if you're able to buy the Submariner at retail price. But suppose you can, the difference in price is impressive: the Sub has a 60% higher price tag.
CONCLUSION – Hands down, the Omega Seamaster Diver 300m offers more value for money. I love its looks, its technicalities, its Bond 'charm' and that it remains a slightly fly-under-the-radar model. But I love the Submariner for its heritage, history and the legacy of being one of the dive watches that has set the benchmark for how dive watches look today. Technically both watches are pretty equal.
The Bond charm versus the icon that is the Submariner boils down to a matter of personal taste. Price-wise… well, it's hard to ignore that the Submariner costs more than 60% more than the Seamaster. To each his own, both are absolutely best-in-class dive watches, manufactured by best-in-class brands, with a global retail network and possibility to have it serviced (pretty much) everywhere.
https://monochrome-watches.com/rolex-submariner-116610ln-vs-omega-seamaster-diver-300m-comparative-review/